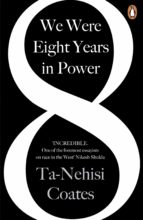 A mi lista de deseos

Está en tu lista de deseos

A mi lista de deseos

Está en mi lista de deseos

Comenzar a leer
WE WERE EIGHT YEARS IN POWER
EBOOK
-0.95€
Acerca del eBook
Formato:

EPUB - DRM

Editoral:

PENGUIN

Lengua:

INGLÉS

ISBN:

9780241982501
THE NEW YORK TIMES BESTSELLER

Ive been wondering who might fill the intellectual void that plagued me after James Baldwin died. Clearly it is Ta-Nehisi Coates Toni Morrison
Searing. One of the foremost essayists on race in the West... [He] is responsible for some of the most important writing about what it is to be black in America today Nikesh Shukla, editor of The Good Immigrant
Finalist for the Los Angeles Book Prize 2018
Longlisted for the Andrew Carnegie Medal for Excellence 2018
Powerful and necessary, a state-of-the-nation portrait of America under Obama from the prize-winning, bestselling author of Between the World and Me
From 2008-2016, the leader of the free world was a black man. Obamas presidency reshaped America and transformed the international conversation around politics, race, equality. But it attracted criticism and bred discontent as much as it inspired hope - so much so, that the world now faces an uncertain future under a very different kind of US President.
In this essential new book, Ta-Nehisi Coates takes stock of the Obama era, speaking authoritatively from political, ideological and cultural perspectives, drawing a nuanced and penetrating portrait of America today.
RAVE READER REVIEWS:
Brilliantly written, incisive, and extremely relevant. Read it with your families, use it in your classrooms, give copies to your friends (Liz)
Coates thinks more deeply and writes more clearly about the national tragedy and disgrace that is our collective failure to confront the legacy of White Supremacy than just about anyone... I cant recommend it highly enough (Worddancer Redux)
Every white person who wants to really know how it looks from the other side should take on the responsibility of reading Coates eye-opening, informative book... A must read for everyone of every colour (Indy JV)
A masterful understanding of how the USA really works (shedgirl)
If you want to know the wellsprings of racism in America - then read this book! (David C. R. Hancock)
Opiniones "WE WERE EIGHT YEARS IN POWER (EBOOK)"
No hay opiniones para este producto